We cordially invite you to join our annual conference "DigiMed Bayern Symposium 2022: Big Data and AI: Can Medicine Do the Doable?" and to discuss with the DigiMed Bayern Consortium and renowned speakers and participants from the international digital health about data-driven medicine and its potentials – for patients, for science, for the health system, for the economy and for the society.
Our program with preliminary presentation titles and speakers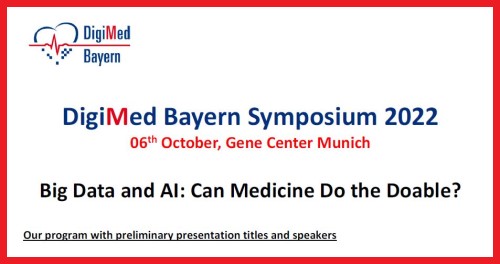 Programm DigiMed Bayern Symposium 2022 (pdf)

Location
Gene Center, Building A, Ludwig-Maximilians-Universität, Feodor-Lynen-Straße 25, 81377 Munich.
Background information

The flagship project DigiMed Bayern demonstrates feasibility of P4-medicine in Bavaria and Germany, from multilayered big data research projects all the way to large scale initiatives preventing atherosclerotic diseases, such as coronary heart disease and stroke. DigiMed Bayern has a runtime from 2018 to 2024 and it is funded with approx. € 25 million by the Bavarian State Ministry of Health and Care. It generated highly utilized Apps for calculating and minimizing risk of cardiovascular diseases, implemented state-wide measures for preventing atherosclerosis at young age, and produced comprehensive datasets of patients diagnosed with coronary disease, or with its genetic risk factors. The data are enriched by state-of-the-art multi-dimensional characterization (-omics technologies) for gaining new insights into the molecular mechanisms leading to the diseases. For the integrative analysis of the resulting "Big Data", a compliant, secure and sustainable IT-infrastructure is fundamentally designed and implemented. Finally, as we will show, patients and persons at risk do and will further benefit from advancements in disease risk prediction, diagnosis, targeted prevention and treatment.
Past events

Impression from DigiMed Bayern Symposium 2019